Communications Solutions
RFL's communications solutions are engineered to modernize the substation's infrastructure. Each comms platform is designed to transport mission-critical signals reliably between substations and control centers. Whether packet-based or legacy TDM, our solutions allow power utilities to deliver power safely, reliably and cost effectively, ensuring power system protection signals arrive on time, every time.
---
NEW!


eXmux® 4500 Multi-Service Access & Transport Platform

The eXmux® 4500 Multi-Service Access & Transport (MSAT) Platform is designed to address the challenges of network IP migration and infrastructure upgrades; allowing utilities to move forward in modernizing substations without the worry of future integration or legacy applications.
Learn More & Request a Brochure...
RFL eXmux® 4500
Meet the eXmux® 4500
For additional eXmux® 4500 product benefit videos, click on the links below.
IMPACT Award Winner at UTC 2019
Winner, Hardware: Hubbell Power Systems (for their eXmux® 4500 Access & Transport System)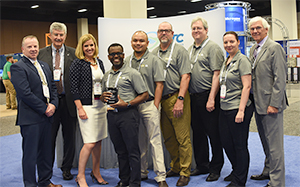 "Congratulations to all of our winners this year," said Outgoing UTC Chairman of the Board Roger Bryant. "These awards go to the heart of what makes UTC so special—the people, the utilities, and the vendors who make up our membership. Every day our members work hard to support reliable, resilient, and affordable energy and water services to people and businesses. It is an honor to recognize a select few for their service."
---
eXmux® 3501M - IP Access Multiplexer
The RFL eXmux® 3501 is a substation-hardened IP Access Multiplexer engineered for mission critical infrastructures to transport voice, serial, relaying protection, SCADA, video and Ethernet data communications over Ethernet/IP or MPLS networks, providing the flexibility of backward compatibility with legacy devices and forward compatibility with Ethernet devices on the same communications platform.