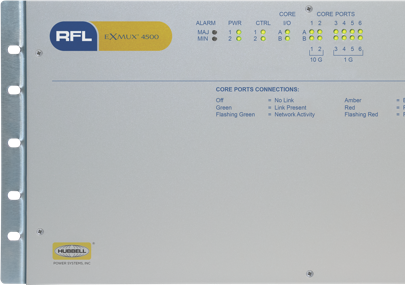 Move
Forward
Leave Nothing Behind
RFL™ eXmux® 4500
Bringing Your
Network Forward
On Your Terms
The eXmux® 4500 Multi-Service Access & Transport (MSAT) Platform addresses the challenges of network migration and infrastructure upgrades for power utilities. This solution bridges the gap between legacy and modern technologies and allows you to move your network forward without leaving anything behind—on your terms.
Reliability
without compromise
Dependable communications that guarantee network resiliency and data survivability
Modernization without degrading the performance of older, trusted equipment
Security that goes beyond NERC CIP and industry best practices to ensure data availability, integrity, and confidentiality, including optional two-factor authentication
I get all of the benefits of a modernized network without compromising reliability, survivability, operational network needs, and security.
EASY-TO-USE
management platform
Fast network provisioning – move from staging to deployment in just hours
System-wide configuration, status, and monitoring for increased efficiency
Management system displaying the entire network's status reduces user error and speeds up troubleshooting
ELIMINATE MIGRATION GAPS
and leave nothing behind
Reduce network complexity and bridge knowledge gaps
Assure technological cooperation for T/OT convergence
Migrate legacy TDM into packet based Carrier Ethernet or MPLS Network with Transport Profile
The guided system configuration helped both our seasoned engineers as well as newer hires work seamlessly during network migration.
FUTURE-PROOF
your infrastructure
Extensible platform that eliminates the vicious cycle of legacy equipment vs. modern technology
Single integrated network solution to deliver power safely, reliably, and securely
Our company currently keeps OT and IT communications separate, but this system will allow us to converge them when we're ready.
eXmux® 4500


Move your network forward without leaving anything behind—on your terms.
KEY FEATURES
10-Gig Carrier Ethernet/MPLS-TP* Access and Transport Communications Platform
Redundant controller & network multiple points of failure protection
G.8032 Ethernet ring protection with sub 50ms switch-over time
"Hitless Switching" functionality with zero-data-loss to protect mission-critical TDM data
Low latency with < 3ms circuit propagation delay for real-time mission-critical applications
TDM legacy interfaces including DACS functionality
Encryption - Data and Management
"Secure Lockdown" (Patent pending) – two-factor authentication for increased security
DOWNLOAD the eXmux® 4500 BROCHURE
Learn more about how you can move your network and infrastructure forward with the eXmux 4500. Please fill out the form to download.